ISO has just published a new International Standard which will help to ensure that the joys of ski-touring are not marred by products which are not safe enough.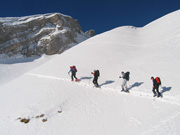 This International Standard applies to ski-boots of sizes 15 and larger in the Mondopoint system which is based on the measurement in centimeters of the length of the foot.
ISO 9523:2008 applies to rigid touring boots. Boots with softer shells like Telemark boots are excluded as they do not have the necessary shell stability to act as part of the release systems.
Mr Otto Harsányi, Chair of the ISO subcommittee which developed the standard, comments: "Winter sports equipment has been fairly thoroughly standardized internationally both for reasons of safety and for product viability and production at economically supportable costs. Manufacturers are eager to know what is required worldwide to surmount trade barriers and called for an ISO International Standard such as ISO 9523:2008."
This second edition of ISO 9523:2008 cancels and replaces the first edition (ISO 9523:1990), which has been technically revised and was developed by ISO technical committee ISO/TC 83, Sports and recreational equipment, Subcommittee SC 3, Ski bindings.
ISO 9523:2008, Touring ski-boots for adults – Interface with touring ski-bindings – Requirements and test methods is available from ISO national member institutes (see the complete list with contact details). It may also be obtained directly from the ISO Central Secretariat, price 90 Swiss francs, through the ISO Store or by contacting the Marketing & Communication department (see right-hand column).